Anti Aging Retinol Cream with Natural Plant Stem Cells
Our Private Label Anti Aging Retinol Cream with Natural Plant Stem Cells is a sophisticated anti-aging solution that harnesses the power of retinol and plant-derived stem cells to offer superior skincare benefits.
The key player in this formula is Retinol, a form of Vitamin A renowned for its remarkable ability to minimize the appearance of fine lines and wrinkles, boost skin renewal, and improve the overall texture and tone of the skin. Retinol also supports natural collagen production, leading to increased skin elasticity and firmness.
Enhancing the effects of retinol, our formula incorporates Natural Plant Stem Cells. These cutting-edge ingredients have the potential to promote the skin's natural turnover process and prolong the lifespan of skin cells. The incorporation of plant stem cells provides the dual action of providing anti-aging benefits while also protecting the skin from damage caused by free radicals.
Further enriched with hydrating agents like Isopropyl Palmitate, Sweet Almond Oil, and Coconut Oil, the cream works to maintain the skin's optimal moisture balance. These ingredients ensure the skin is nourished, leaving it feeling soft, supple, and refreshed after each application.
The Private Label Anti Aging Retinol Cream with Natural Plant Stem Cells is an exceptional addition to any skincare line, offering an effective, modern solution to age-related skin concerns. It is an ideal choice for brand owners, eCommerce enterprises, agencies, or Amazon retailers seeking to upgrade their offerings with a premium anti-aging skincare product that truly delivers on its promises. Make the choice today to incorporate this superior cream into your product line, and let its powerful ingredients enhance your brand's reputation for quality and efficacy.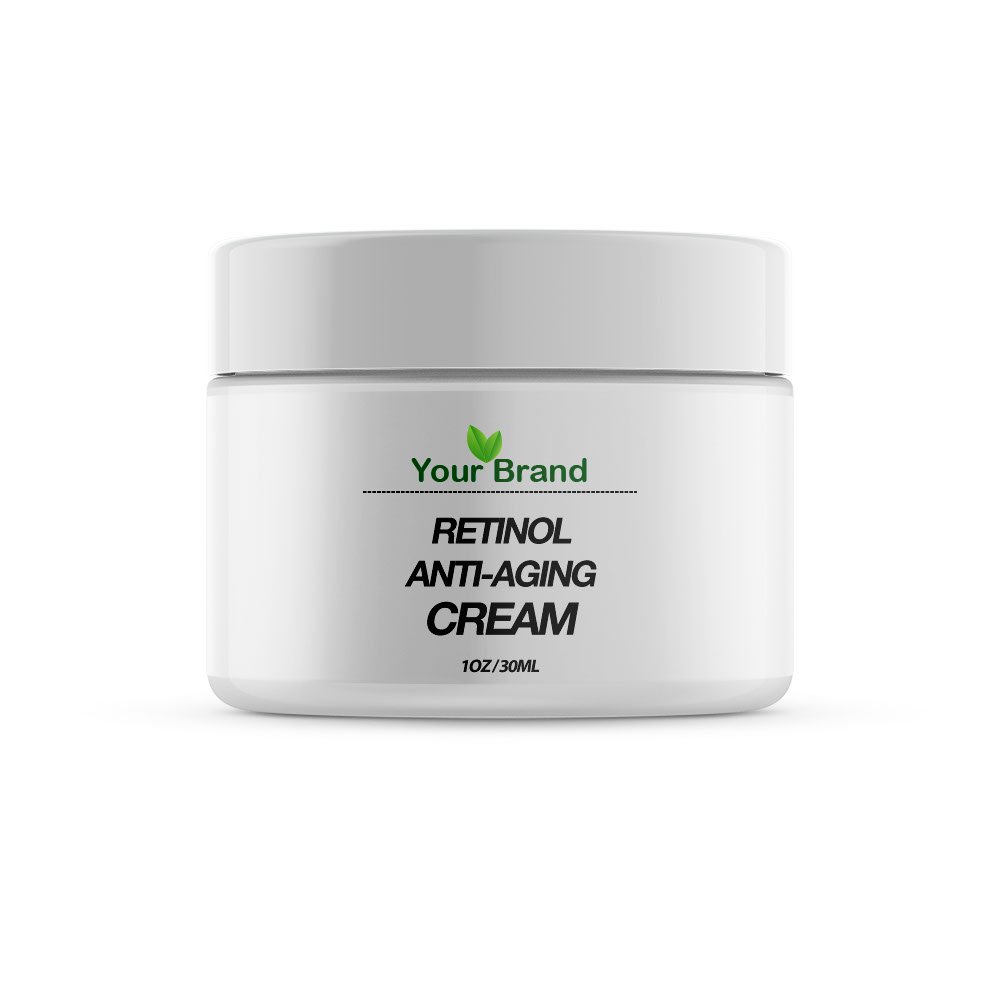 Ingredients
Key Ingredients
Label Instructions
Format
Sizes
Quote
Ingredients
Purified Water, Aloe Barbadensis (Aloe Vera) Leaf Extract, Isopropyl Palmitate (from Palm Oil), Prunus Dulcis (Sweet Almond) Oil, Cocos Nucifera (Coconut) Oil, Cetearyl Alcohol, Stearic Acid, Emulsifying Wax, Glyceryl Stearate, Soy Lecithin, Xanthan Gum, Phenoxyethanol, Caprylyl Glycol, Potassium Sorbate, EDTA, Citric Acid, Algae Extract, Pullulan, Carbomer, Beeswax, Porphyridium Cruentum Extract, Iris Padilla Leaf Cell Extract, Nymphaea Caerulea Leaf Cell Extract, Citrus Medica Limonum (Lemon) Peel Oil*, Citrus Aurantium Ducis (Orange) Oil*, Matricaria Recutita (Chamomile) Extract*, Passiflora Incarnata (Passion Flower) Extract*, Hydrolyzed Silk Protein Elastin, Retinyl Palmitate (Vitamin A),Tocopheryl Acetate (Vitamin E).
Key Ingredients
Label Instructions
Format
Sizes
Quote